July 2, 2005: Shasta Caverns, Lake Shasta, Shasta Dam. (Links)
July 3, 2005: Mt Lassen Volcanic Park. (Link)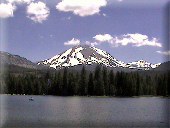 So we headed for Shasta Caverns the morning of Saturday, July 2nd and arrived around noon. We were on the 1:00PM ferry that takes you across lake Shasta to the dock where a brand new bus shuttles you the rest of the way up the mountain to the cave entrance. All in all 30 minutes from parking lot to cave. We had a tour guide (everyone does) take us through the caves and they were great! A must see if you are in the Shasta area.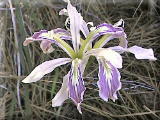 We stayed the night in Redding and went to Mt. Lassen Volcanic National Park the following morning. Our first stop was Manzanita Lake where we spent most of the morning and where most of the Lassen photos in the slideshow were taken. The kids each got an exploration pack from the Ranger Station and we all set off along the trail that circles Manzanita Lake, finding every creature and interesting thing. The Explorer packs come with everything kids need to explore their world! A fully refundable deposit of $50 each pack is required so we made sure not to lose anything!
After we circled the lake, we drove on to a picnic site and had lunch and then went to the other end of the park where the kids played in the snow (lots of snow) and went to see the thermal vents.
The slideshow linked to the right contains 172 photos, all of which were taken by us on this trip . It takes a while to view so get your popcorn and favorite chair before you start!